We Provide Best and Effective Solutions For Your Buildings and Facilities
Our Departments » Design & Construction »
One of our main goals is to modernize our nations' infrastructure, by that we mean Senegal and all other countries in Africa. Our undertaking includes homes, family housing, child development centers, research facilities, hospitals, medical facilities, health facilities, governmental structures and managed communities, military facilities, courthouses, prisons and national parks.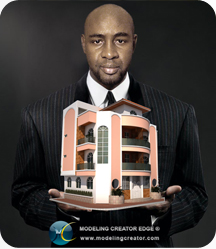 From metering, energy audits and building inspections to grounds keeping, logistics operations support and security and materials, tools, equipment and supplies, Modeling Creator Design © & Construction can help you make each step of a building project with lower costs and greater efficiency. You can turn to Modeling Creator Engineering & Technology for a wide variety of solutions to meet various facilities management requirements. Whether used together or separately, the following solutions are immediately available to help your project meet pending infrastructure development needs...
Architecture
Our Work »
Infrastructure Development Needs
Buildings and Building Materials

Access a full range of commercial products and services covering areas such as buildings and building materials, industrial services and supplies. Solutions include power distribution equipment, generators...

Read More...

Construction Management

Expand your agency's capabilities to meet building construction requirements under ISO by accessing commercial construction, design and management experts...

Read More...

Facility Management/Maintenance Services

Obtain all the services necessary to maintain and manage your facility, including electrical and utility installation, elevator installation and maintenance, facilities maintenance...

Read More...

Professional Engineering Services

With us, you will have access to expert who can perform an array of engineering services in areas including building, electrical, plumbing, and (components of) civil engineering, as well as numerous sub-disciplines such domestic, military...

Read More...