Our Departments
Our Departments »
"Polymath" defines the scope of our services. Shaped by many different background such as industrial design, architecture and graphic art which all have a common basis that is drawing and graphic representation.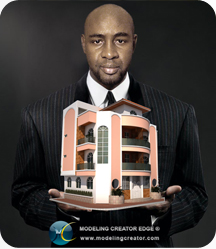 The founder of Edge Modeling creator has combined all its academic and professional experiences, his passion for new technologies and computer programming to form this prestigious group.

The company has two main department. Yet, the group is supported by a third office for research and development. This is a key element to the company specifically in the studies for the development of education and housing.

Creativity is the basis of engineering, therefore we believe we can use it to improve our engineering and architecture and offer you the opportunity to preview your imagination CWN using the art of 3D.
Departements
Engineering & Technology

Many companies, especiales SMEs (Small and Medium Enterprises) realize that they need technology to stay competitive.

Read more..

Design & Construction

One of our main goals is to modernize our nations' infrastructure, by that we mean Senegal and all other countries in Africa. Our undertaking includes homes, family housing, child development centers...

Read more..

Recherche &amps Développement

Very early we understood, at Modeling Creator Edge, that there would be time when the gap between third world countries and developed countries will be reduced to completely disappear thanks to computers technologies and the knowledge available in the Internet which any dedicated scholar and community can acquire...

Read more..

Gouvernment and Contrats

Expand your agency's capabilities to meet building construction requirements under ISO by accessing commercial construction, design and management experts. Solutions include project design phase services, project procurement phase services, project construction phase services, commissioning services, testing services, claims services, and post-construction services.

Read more..